HIKING WITHOUT LUGGAGE FROM HUT TO HUT
The Trail Angels are the official Trail Info & Booking Center for some of the most fascinating long-distance hiking trails in the Alps. Today we present you the most beautiful multi-day hut hikes on these trails.
Alpe-Adria-Trail
5 days hut hiking
incl. breakfast, luggage service & return transport
from € 419,- p. p.
Luchs Trail
7 days hut hiking
incl. breakfast, luggage service & return transport
from € 774,- p. p.
Nockberge-Trail
7 days hut hiking
incl. breakfast, luggage service & return transport
from € 742,- p. p.
Gesäuse hut circuit
9 days hut hiking
incl. breakfast & return transport
from € 729, – p. p.
OUR SELECTION FOR YOU: HUT HIKES IN AUSTRIA
1. The most beautiful hut hikes
You will be thrilled by this selection, because we have put together these four hut tours with luggage transport for you with great care: on breathtakingly beautiful stages of the top long-distance hiking trails Luchs Trail, Nockberge Trail, Alpe-Adria Trail and Gesäuse Hüttenrunde.
#1 Hut hiking on the
Alpe-Adria-Trail
HUT TOUR ALPS/CARINTHIA: FROM THE GLACIER TO THE SEA
Writing about the Alpe Adria Trail, which has a total of 37 stages, is now carrying owls to Athens: in the last 10 years, it has become perhaps the best-known long-distance hiking trail in the Eastern Alps. One of the reasons: the routing from the glacier to the sea through Carinthia, Slovenia and Friuli is captivating.
For the theme "Hiking from hut to hut" we have compiled for you three stages along the Alpe-Adria Trail in the Nockberge mountains. An offer that, in our opinion, packs the maximum into a short vacation. You can unpack your swimming gear at your starting point in Döbriach on Lake Millstätter See before hiking three stages from hut to hut all the way to Bad Kleinkirchheim with its full wellness offerings. The alpine pastures of the round Nockberge mountains are ideal for hut hiking and the views are breathtaking. With this offer you really have a perfect symbiosis between a hut hike combined with the wellness and swimming offers in the surrounding towns. And: You do not have to carry your own luggage – unlike most other hut tours: here we offer luggage service.
HUT TOUR ALPS/STYRIA: THROUGH THE NATIONAL PARK GESÄUSE
With the Gesäuse Hüttenrunde you get exactly what it says: namely a hut hike and nothing else. Whereby the "nothing" in this case is very much. Namely a mountain landscape, which is one of the most impressive in Austria because of its ruggedness. Up to 800 m high rock faces and wild rivers attract the views, so you have to be careful not to stumble constantly. But don't worry: the route is so cleverly designed that you can always enjoy hiking from hut to hut on moderate climbs. The refuges where you spend the night along the Gesäuse Hütterunde are among the most traditional in Austria and still offer real hut flair. Only in the evening it can be stressful – what is more important: the excellent home cooking or the spectacular evening atmosphere on the hut terrace high above the valleys in the middle of the Gesäuse National Park?
#3 Hut Hiking on the Nockberge Trail
HUT TOUR ALPS/CARINTHIA: HIKER'S PARADISE BIOSPHERE PARK NOCK MOUNTAINS
The Nockberge Trail is an 8-stage long-distance hiking trail through the Nockberge mountains from Katschberg to Seeboden on Lake Millstatt. We are very proud to have developed it together with the Nockberge Biosphere Park. Why? Simply because, in our subjective opinion, the Nockberge Trail is one of the best long-distance hiking trails far and wide. This is not necessarily our merit in the first place – this honor must go to Mother Nature. The Nockberge are simply made for enjoyable hiking from hut to hut with luggage transport: You mostly hike on ridges and over alpine pastures above the timberline with a breathtaking view of the surrounding mountains. And if you are once under the timberline on the way then wonderful larch and Swiss stone pine forests are waiting for you. Especially hut feeling comes up when you start with the 4th stage from the Turracher Höhe, spend the night at the Lärchenhütte and then continue with a stopover in Bad Kleinkirchheim from hut to hut to Seeboden. Hut hiking at it's best!
#4 Hut hiking on the Luchs Trail
HUT TOUR ALPS/STYRIA: THROUGH AUSTRIA'S WILD CENTER
The Lynx Trail is a long-distance hiking trail in the border region of Upper Austria, Styria and Lower Austria through the Kalkalpen and Gesäuse National Parks and the Dürrenstein Wilderness Area. It was one of our first long-distance trails, which we developed as a tourism agency and tour operator together with local tourism and protected area representatives and which has since become a long-distance hiking classic. Logically, then, we also offer it as a hut hike.
If you want to enjoy the Lynx Trail from hut to hut, then we recommend the first seven stages (from these 7 stages we have put together 2 packages with 5 stages each). They run mostly through lonely middle and high mountains (habitat of the shy lynx, exactly!) and together with small simple huts like the Anlaufalm offer a harmonious hiking experience in the middle of nature. Overnight stays in Admont with its world-famous abbey library and in the mountaineering village of Johnsbach create a wonderful contrast and the necessary relaxation.
THE NEW TREND: MULTI-DAY HUT HIKES WITHOUT LUGGAGE
2. Fascination hut hikinig
Hiking in mountain huts – for many the epitome of freedom. Free from material abundance, the simple life as well as the concentration on oneself and hiking exerts a great attraction on many people, at least for the vacations. Repaid you get the missing luxury on refuges with another, not affordable kind of luxury: namely with silence. With a closeness to nature that can hardly be stronger and with an environment in which stress is a foreign word. Spatially as well as mentally, there is hardly any activity in which you can better switch off from everyday life than when hiking in a mountain hut – and without any annoying luggage. The almost meditative form of movement of hiking also contributes to this. Hiking from hut to hut is a time full of discoveries, where you can always be curious about what you will experience around the next corner. And you are "on foot" in a very sustainable form of travel. Hiking from hut to hut with luggage transport is one of the latest trends for good reason.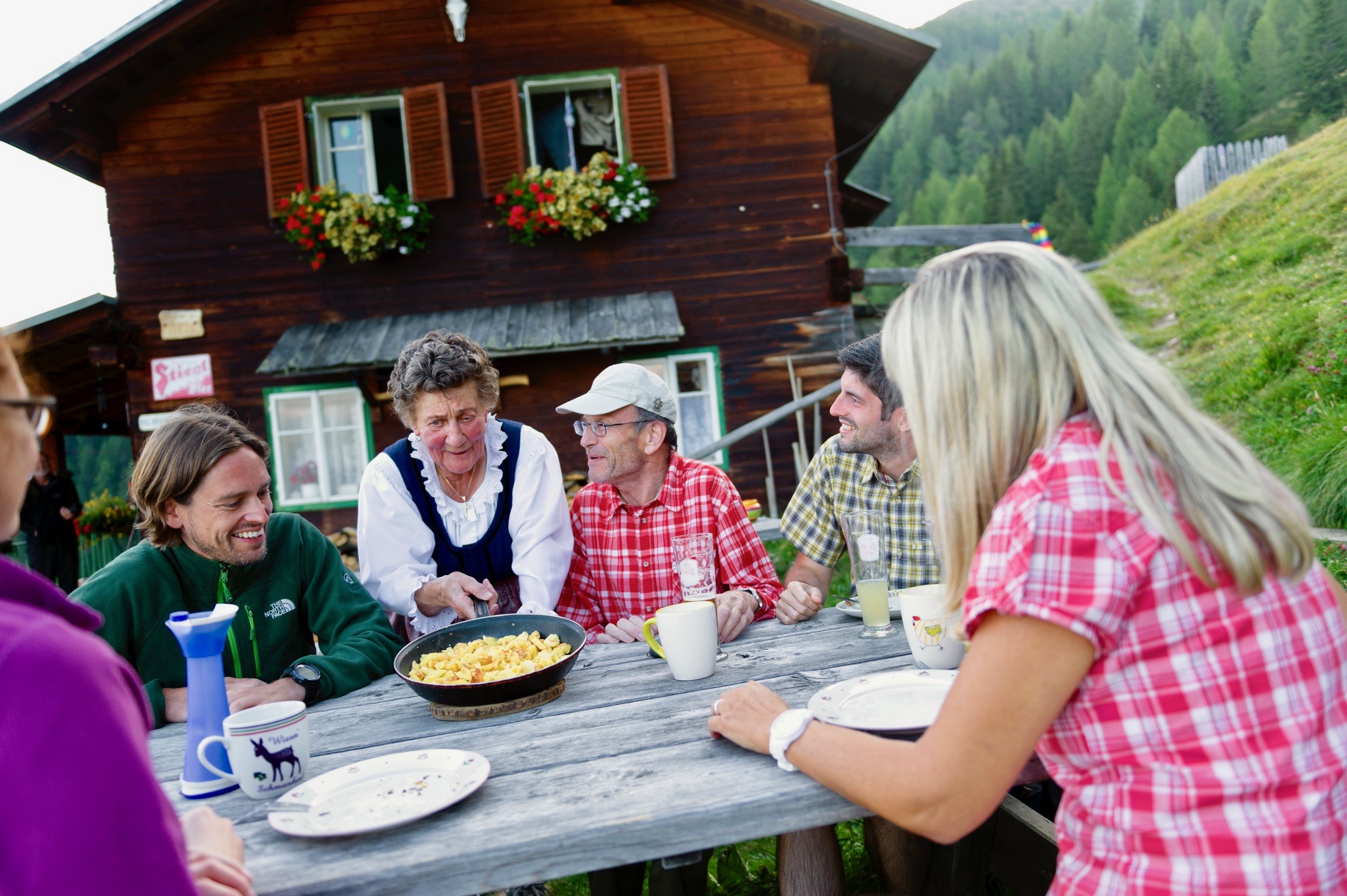 Of course, hiking in mountain huts also includes a delicious homemade meal, like the Austrian national dish Kaiserschmarrn on the Alpe-Adria-Trail shown here in the picture © Franz Gerdl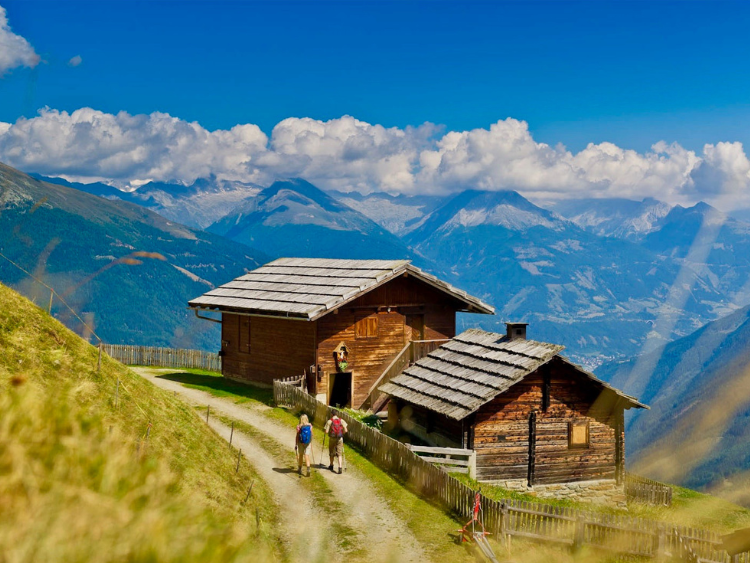 Unwind the soul © Franz Gerdl/Kärnten Werbung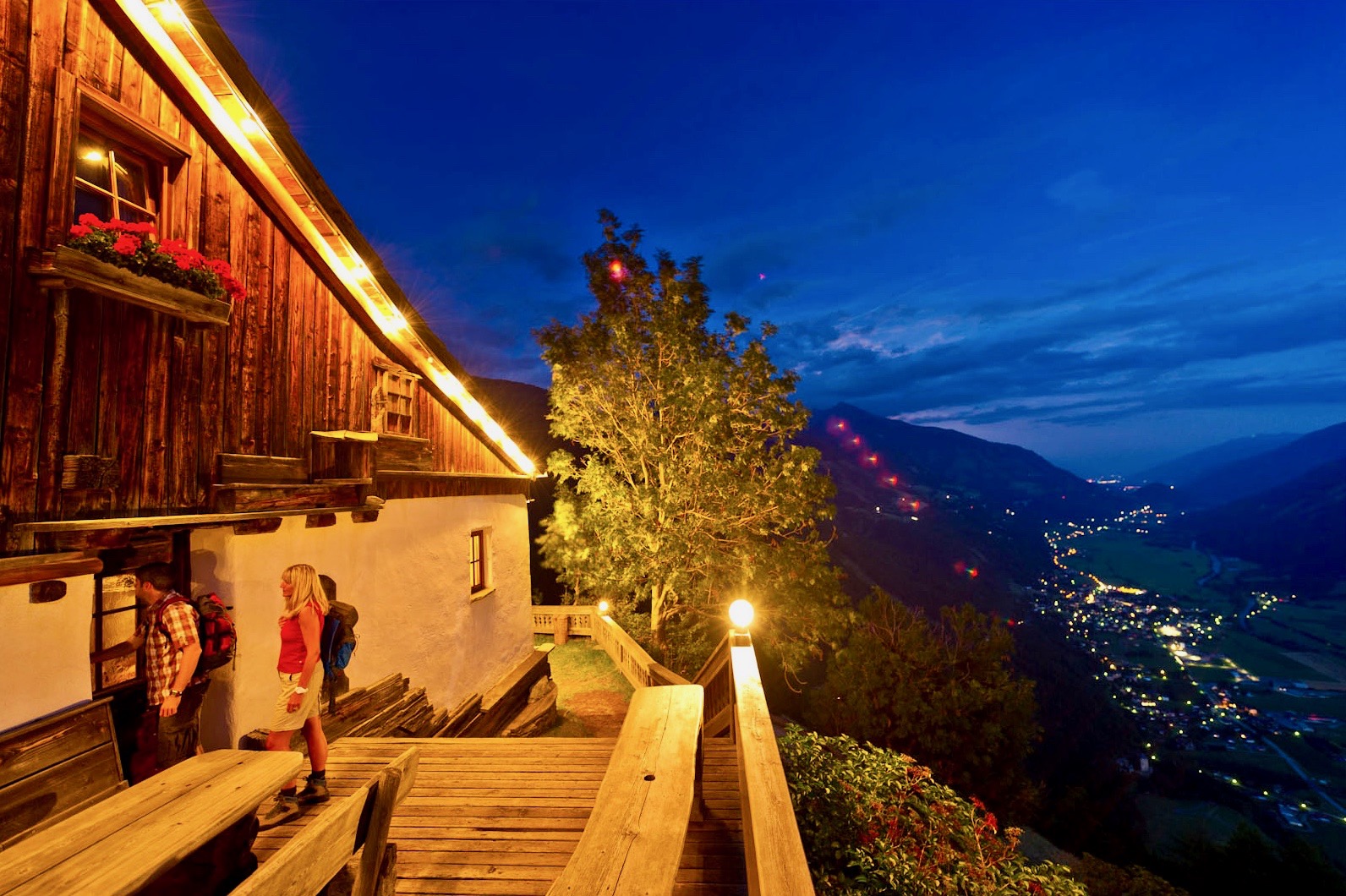 High above the valley reflect on the essentials © Franz Gerdl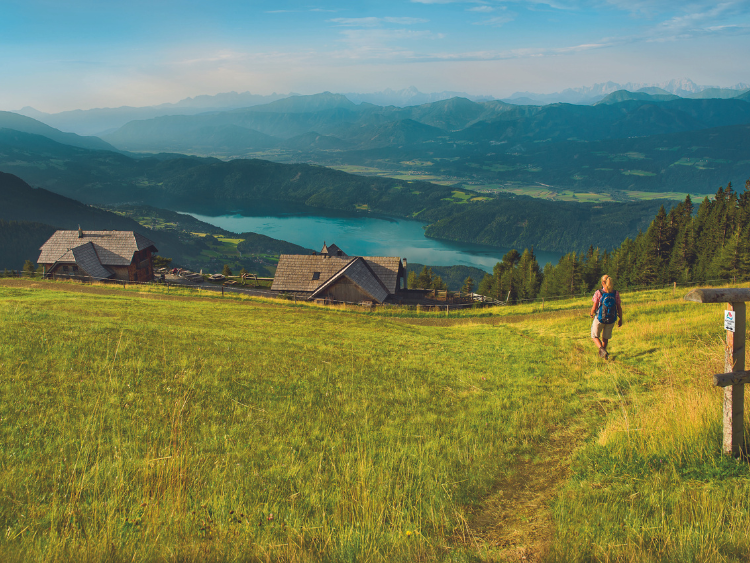 Along heavenly meadows and idyllic alpine pastures on the Alpe Adria Trail © Franz Gerd/Kärnten Werbung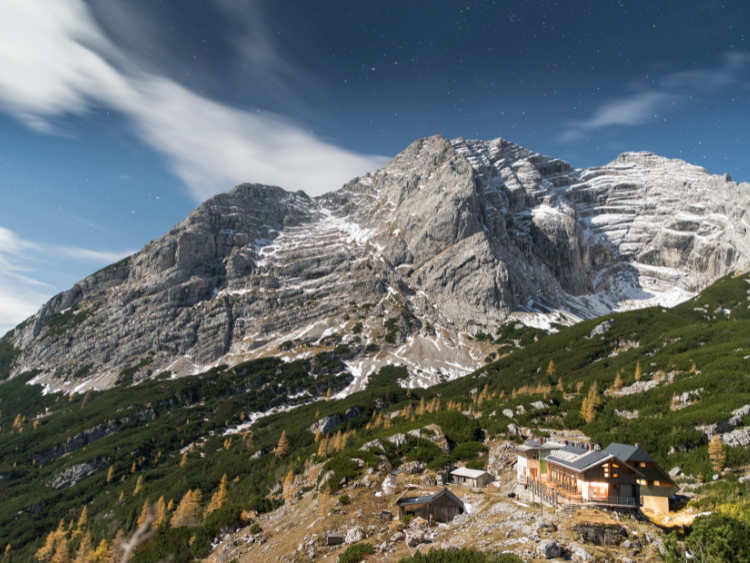 The Heßhütte on the Gesäuse Hüttenrunde shines in the face of the sun © Stefan Leitner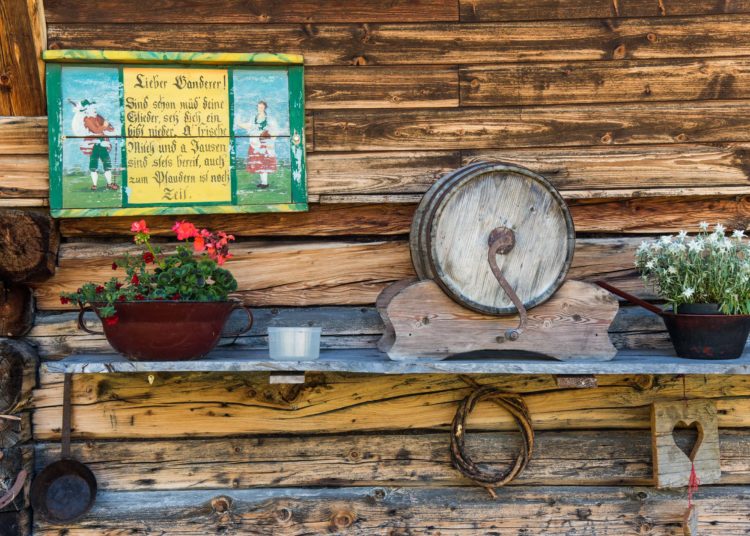 Appreciating the simple things in life again © Franz Gerld
We as an official trail booking center of many long-distance trails are ourselves huge fans of hut hiking notice from the many requests we get on the subject of "hiking from hut to hut" that we are not alone with our enthusiasm for it.
Hut-to-hut hiking is simply a different kind of recreation than when you stay in good hotels. However, we find: every now and then it is also very pleasant when hiking from hut to hut, if you can stay overnight in good hotels once in between. So you can perceive the luxury offered there simply again completely different and recover splendidly for the following hikes from hut to hut. Therefore, we have compiled a few tours from our long-distance hiking trails that combine both. They are definitely to be called hut hikes, but offer at the start and at the end (as well as sometimes in between) an overnight stay in good hotels. Yin and Yang just – the best of both worlds.
As usual with us, you can of course adapt these tour proposals to your taste – for example, if you only want to be on the road for a long weekend from hut to hut.
3. Official Trail Info & Booking Center
You've come to the right place: The Trail Angels are specialists for individually bookable long-distance hiking trails. Together with our local partners, renowned alpine destinations, we develop long-distance hiking trails from the initial idea to bookability. And then operate the "Official Trail Info and Booking Center" for these trails to open up hiking trips with personal freedom, service and sustainability to you. Our model has won several awards (currently: "Best Tourism Project Europe" at the "International Tourism Awards in London) and is rated "Excellent" by hundreds of customers on the evaluation platform "Trust Pilot®".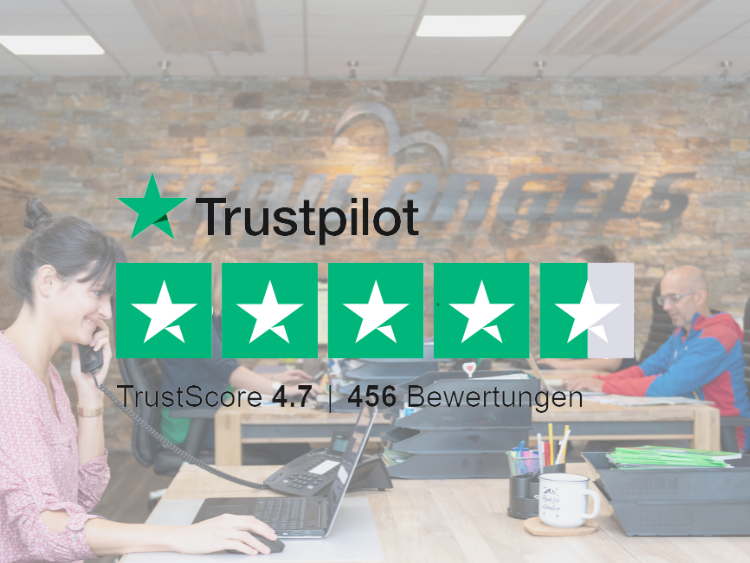 From over 450 guest reviews, this results in a 4.7 star rating for our official trail booking center © Franz Gerdl/Trail Angels
Official partner of the Lynx Trail © Max Mauthner
Official partner of the Nockberge Trail © archivalexanderhuettefotograffabiansackl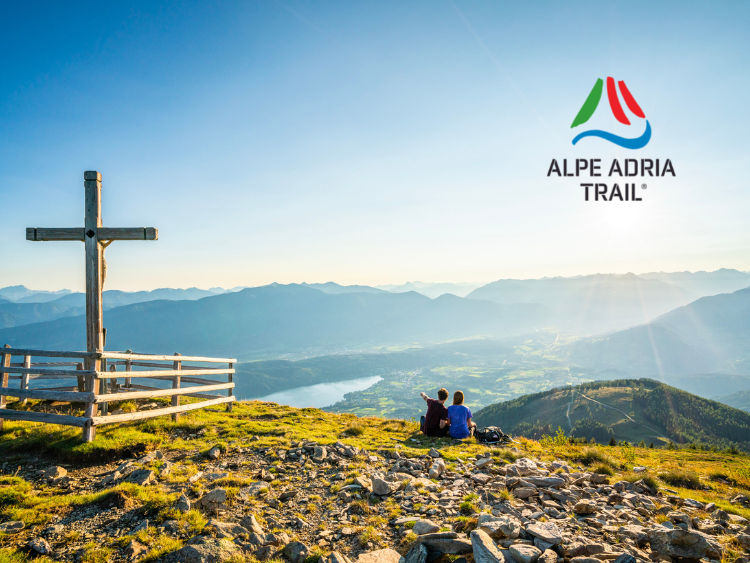 Official partner of the Alpe-Adria-Trail ©Gert Perauer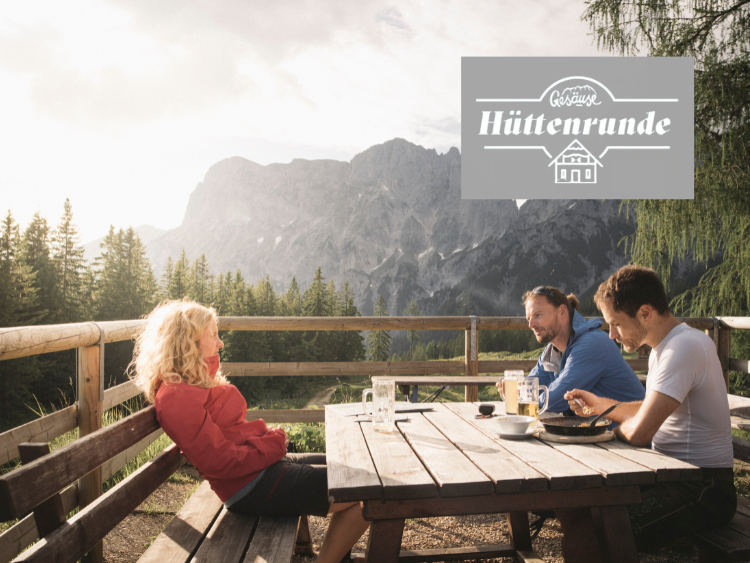 Official partner of the Gesäuse hut circuit © Stefan Leitner
Certified travel agency for sustainable travel © Stefan Leitner
We are the official information & booking center for all multi-day hut tours on the long-distance trails on this site (Luchs Trail, Nockberge Trail, Alpe-Adria Trail and Gesäuse Hüttenrunde) and offer you the following services:
+ Top advice from experienced and competent travel specialists
+ Individual travel planning and booking.
+ Great services such as luggage transport, shuttle services, etc.
+ Personalized and detailed digital travel documents
+ Trail Hotline: daily from 08:00 to 20:00 hrs.
+ Sustainable travel: Every trail trip is possible with rail arrival
Sustainable Travel Agency: We are a proud partner of the "SUSTOUR" program on our way to certification as a sustainable travel agency in the Travel Life® network.
Outstanding Reviews: Trail Angels hiking trips have been rated "Outstanding" by hundreds of customers on the renowned online rating platform Trust Pilot® to date.
Every great journey begins with the first click.
If we could inspire you with our travel program, just get in touch with us. You will see: The first click can turn into an unforgettable travel experience!
Request for hut hiking on the Luchs Trail
Request for Gesäuse hut circuit
Request for hut hiking on the Nockberge-Trail
Request for hut hiking on the Alpe-Adria-Trail