Bookyourtrail® is the world's first and in this form still the only online trail info & booking portal for trails such as long-distance hiking trails, long-distance bike trails, multi-day ski touring routes and other line products in sustainable tourism.
Bookyourtrail® was developed by the
Trail Angels team
. ). As a recognized specialist tour operator in responsible tourism, the Trail Angels run a
Trail Angels Info & Booking Center
and have used their experience with the wide range of customer requests in the development of Bookyourtrail®. This resulted in an application-oriented booking system, which has proven itself in practice during the past years. For more than
36 trails in 8 countries
. And for a wide variety of activities – from long-distance hiking to long-distance cycling to ski touring. The Trail Angels strive to take into account their daily experiences in the Trail Angels Info & Booking Center as well as new trends for the continuous development of Bookyourtrail®.
The result is a booking system that, like no other application, is able to combine travelers' longing for individual freedom with their desire for service, comfort, safety and sustainability.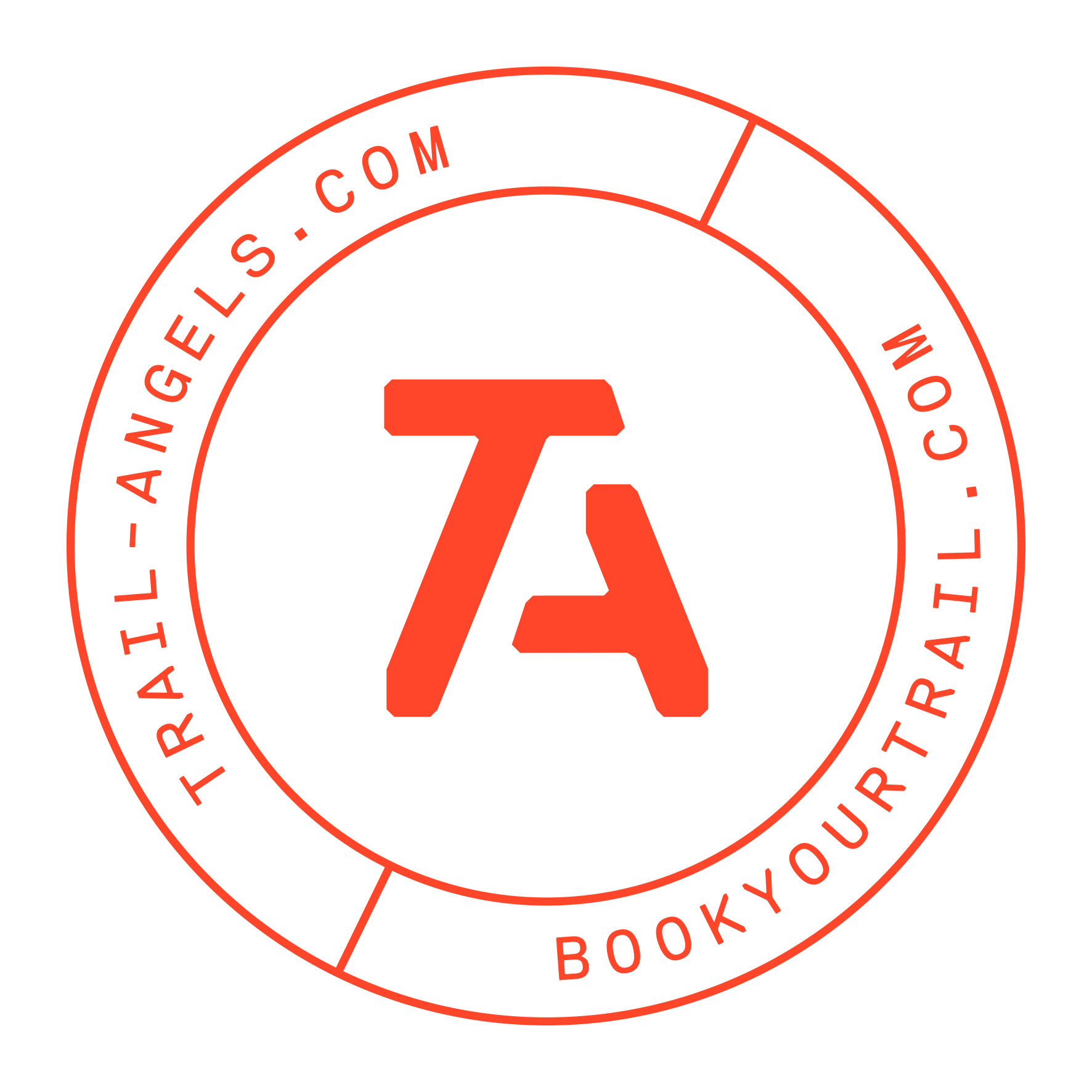 The five W's
Because its sophisticated system architecture, "The Bookable Stage," opens up unparalleled perspectives for individual travel planning and booking for travelers. By solving the challenges for trip design around the five W's "When", "Where", "How long", "With Whom" and "How", Bookyourtrail® virtually eliminates all limiting boundaries for individual long-distance hiking, long-distance biking and more.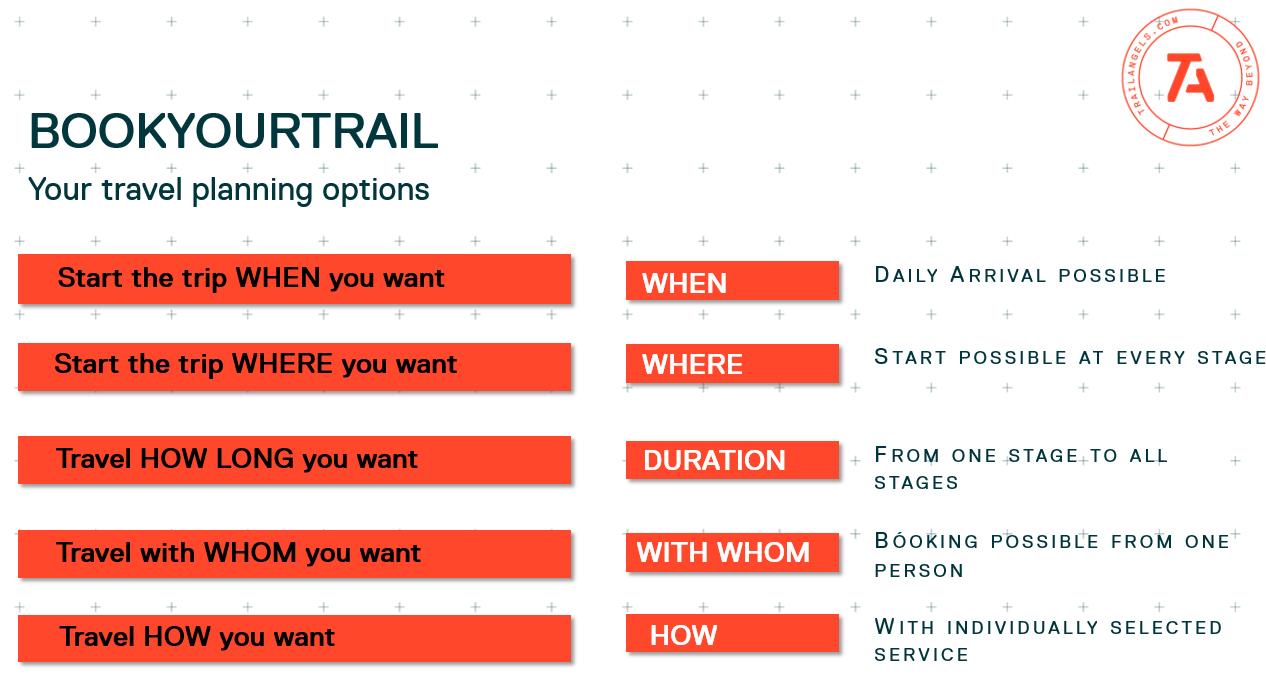 These five W's are not a problem for Bookyourtrail®. And therefore forms the unique solution for individual travel in responsible and sustainable tourism.
The three ways to plan and book your trip
A very special service of Bookyourtrail® are the three different ways to plan and book the individual dream of a trail trip:
Offers: Attractive and mindfully compiled packages are offered for each trail product. These range from seasonal as well as regional travel packages to very special themes. Like the "Green Spirit" product family with a particularly sustainable and climate-friendly design. In addition, the travel packages also offer many options for individual design.
Trip planner: With the trip planner, a trail trip can be individually planned and at the same time a booking request can be submitted to the Trail Angels Info & Booking Center. In doing so, the booking request can be supplemented with completely individual questions and wishes.
Book here: With this "point of sale", the trail trip can be planned in even more detail – stage by stage – and also booked online. The world's easiest way to book a long-distance hiking or cycling trip, because in the same second of your online booking, all service partners – from accommodation to mobility service providers – are informed and get ready for you.
Unique: Bookyourtrail® offers three, very practicable possibilities for individual travel planning and booking.
This is a brief overview of Bookyourtrail®'s range of services for individual, responsible and sustainable travel. If you would like to know more about Bookyourtrail® and its possible applications, please contact us, the Trail Angels.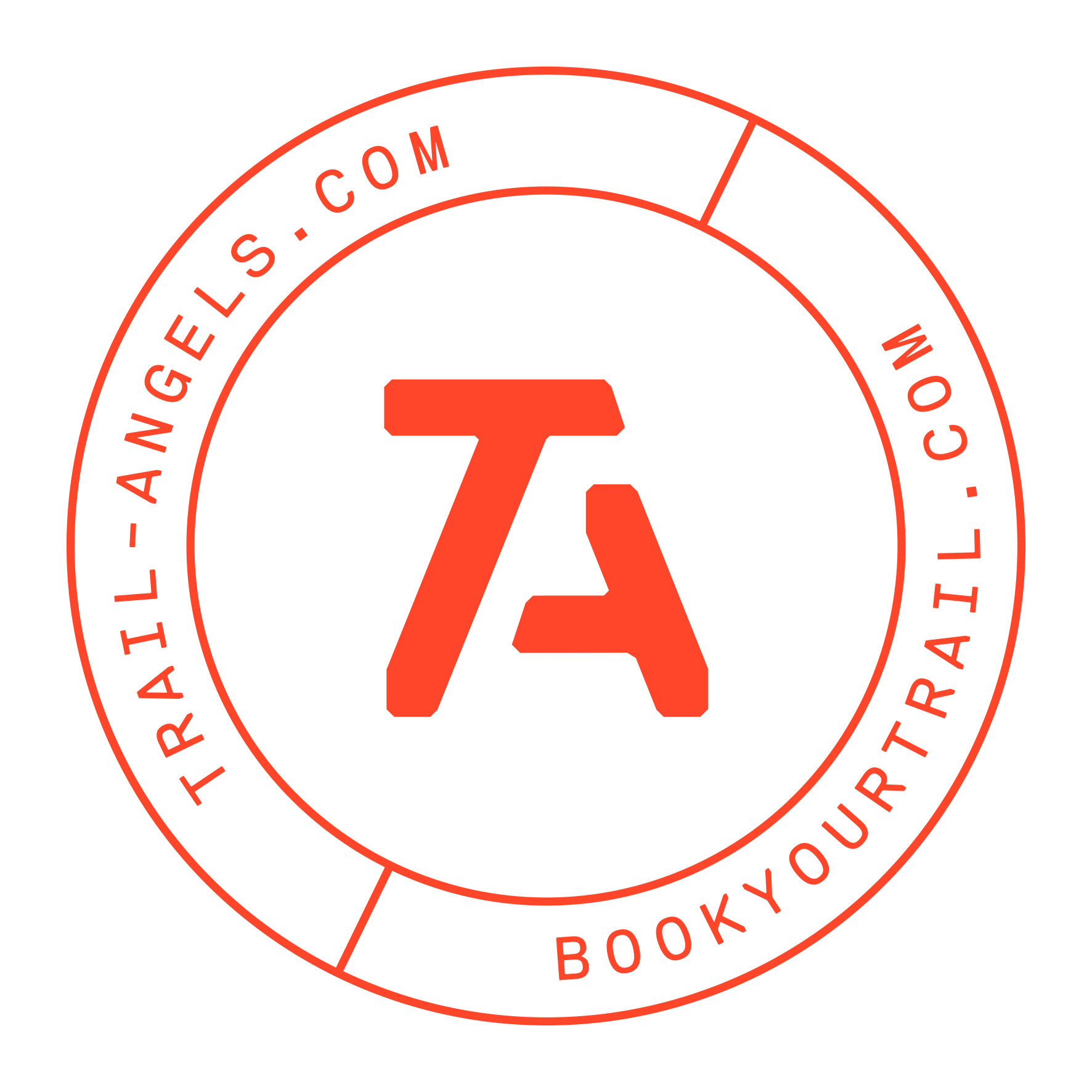 The innovative agency for responsible tourism
The Trail Angels are designers and ambassadors for responsible tourism, by combining their expertise as a development agency for responsible and therefore sustainable tourism products, with that of an efficient specialized tour operator. For this purpose the Trail Angels
have developed the world's first and in this form still the only Trail Management System (TMS) with the online info & booking portal Bookyourtrail® and apply it consistently and effectively as an implementation giant in responsible tourism.
As a result, the Trail Angels have (co-)written some of the most amazing success stories in responsible tourism in recent years: From the multi-award-winning Alpe-Adria Trail over the Lynx Trail to the transnational Amazon of Europe Bike Trail. In addition, the Trail Angels have initiated a new form of transformative tourism in developing and emerging countries – to fulfil our responsibility for a more fair, social and ecological future – with Fair Trails®.
Trail Angels – The Way Beyond! Together we break new ground for regional development and change through responsible and sustainable tourism. Consciously going further with courage, enthusiasm and competence!
More information at: www.trail-angels.com
MAKING OF: RESPONSIBLE TOURISM EXAMPLES
​
From the initial idea to concrete implementation: How do responsible tourism projects actually come about? And what makes them successful? To inspire you for our path to more sustainability and innovation in tourism, we have created our own digital hall of fame. For our examples in responsible tourism and their "making of".
Every great journey begins with the first click.
If we could inspire you for responsible tourism, just get in touch with us. Who knows, maybe something big will come out of this first click!