Der Alpe-Adria-Trail – -A delight for vegetarians
This year marks the 30th anniversary of my decision to become a vegetarian. At least long enough that I can claim to know every joke about vegetarians by now.
Vegetarian can also be hearty – like here on the Alpe-Adria-Trail! Our Trail booking system Bookyourtrail® provides hikers with flexible travel arrangements, as well as vegetarian or vegan hiking tours. ©Kärnten Werbung/Franz Gerdl
Since the end of the eighties of the last century – at that time i lived in the heart of Upper Bavaria – I have gone through almost all phases of the vegetarian life, which was still very unknown at that time: from vegetable platters with eggs (my personal trauma) to " ah, as a vegetarian you need the beef broth much more than we do".
The production process of the Carinthian national dish, the Kasnudel, is called "Krendeln". In the past it was said that a woman is only marriageable if she is able to "krendeln". © Kärnten Werbung (Wolfgang Hummer)
Fortunately, a lot has changed today. Nobody gets grumpy anymore if you don't eat meat, even if the jokes (there are no new ones which are funny) are still present. Especially the sudden vegan boom – as if there had been a huge marketing campaign controlled by an invisible hand – has turned many things for the good of vegetarians and vegans.
But what about the Alpe-Adria-Trail with its suitability for vegetarian long distance hiking? No problem or do you have to suffer from starvation after strenuous hiking days? No: no hunger – and yes: lots of pure enjoyment. In fact, the famous Carinthian national dish is a vegetarian dish: the Carinthian Kasnudeln. Without this dish you don't know Carinthia. But you don't have to eat Carinthian Kasnudeln all the time (by the way, there is also a vegan version available): Especially in the upper part of Carinthia the Käsespätzle and the (Eastern Tyrolean) Schlipfkrapfen are quite common. And, even though desserts are always vegetarian, I remember the delicious Kletzennudeln, which you absolutely have to try once!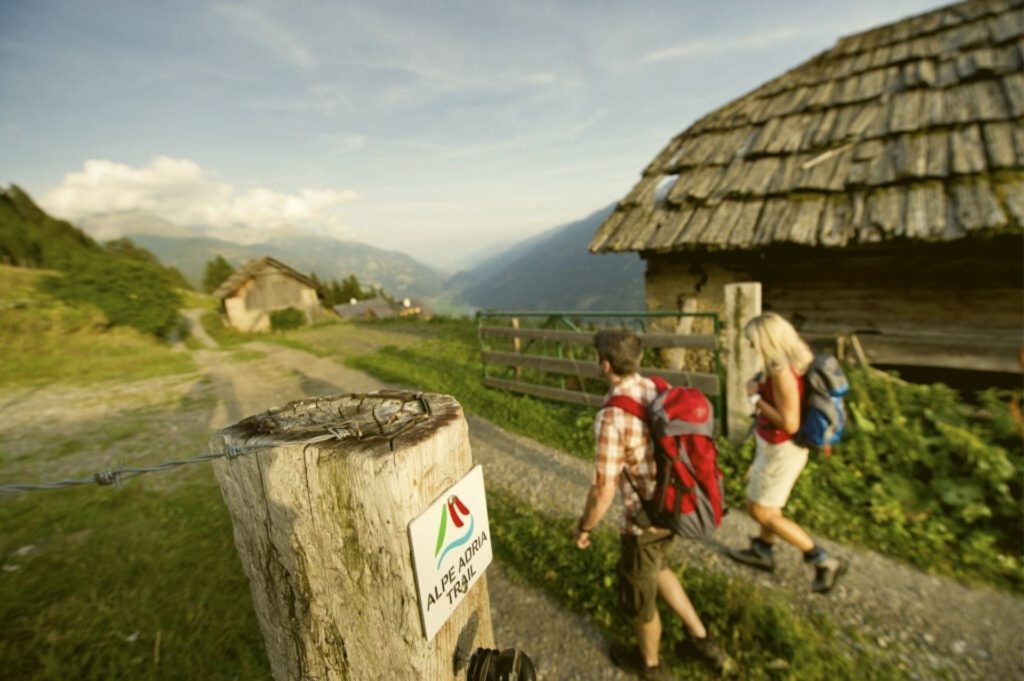 Fresh air up in the mountains plus exercise = appetite. At alpine huts or in guest houses along the Alpe-Adria-Trail you can get many vegetarian and vegan delicacies so that you can continue your hike feeling energized. © Kärnten Werbung (Franz Gerdl)
The closer you get to Italy on the Alpe-Adria Trail, the stronger the italian influence will be (not only) in the culinary part. And for vegetarians, Italy is probably the biggest paradise on earth after India (well, I admit you won't find indian food on the Alpe-Adria-Trail).
In Carinthia, agriculture is – like every region in the Alps – traditionally strongly oriented towards livestock farming and alpine agriculture. This is why we all like Carinthia's beautiful alpine landscape so much – it would not exist without cattle farming. Along the Alpe-Adria-Trail there has always been something at the table that is today called Slow Food and the latest trend: a self-produced cheese board (possibly the cows are looking around the corner at the Almhütte where you are seated), homemade elderberry juice, freshly baked bread. If you know the difference in taste, you know what I mean: A homemade reindling or a cheese soup from own production cannot be beaten in taste and the sustainability of the production is second to none. And this is a point that is very important for me as a vegetarian: living sustainably and eating consciously.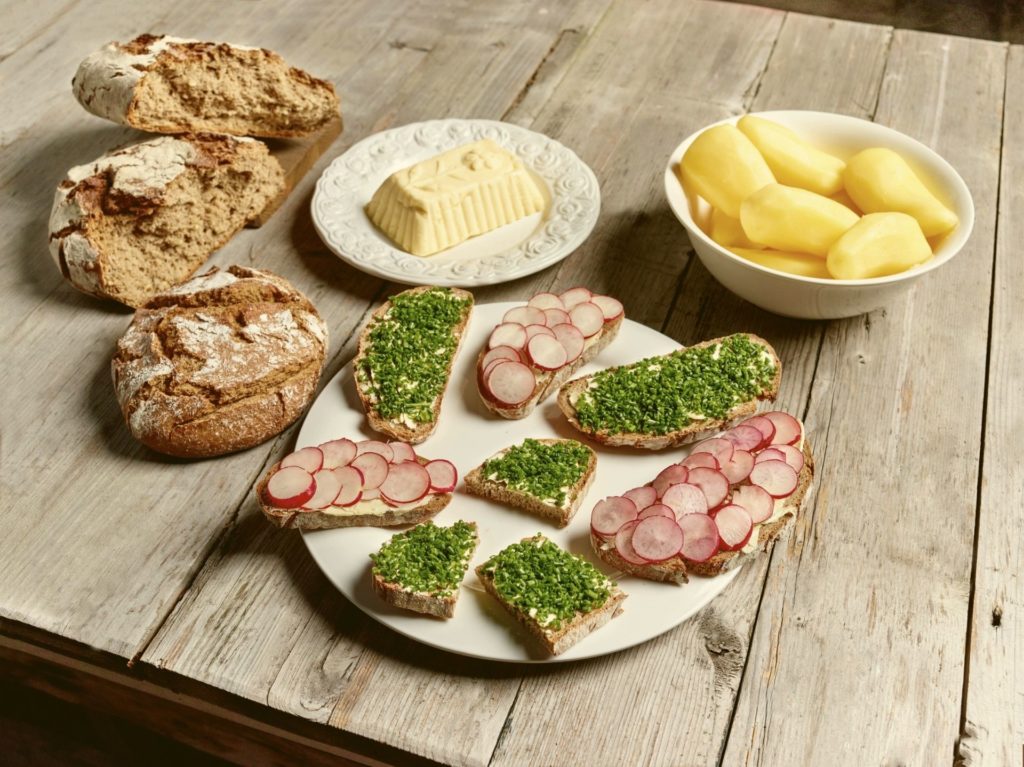 Homemade butter and fresh bread. Chives and radishes: so good can easy food be when it's fresh. © Kärnten Werbung (Johannes Puch)
On the other hand, the dominance of livestock farming in mountain farming means that traditional dishes without meat usually have milk or eggs as an ingredient. Good for vegetarians, not so good for vegans. Nevertheless, as a vegan long-distance hiker you don't need to worry at all about Carinthia: in general, all hotels bookable at Bookyourtrail.com along the Alpe-Adria-Trail are really nice hotels with an authentic but modern cuisine. They always create something delicious and surprising for vegetarians and vegans alike. Once a traditional Carinthian dish and the other time an international dish. All you have to do at Bookyourtrail.com is add the remark that you are vegetarian or vegan, and we'll take care of it beforehand. There will be only positive and no negative surprises in vegan or vegetarian long-distance hiking – even if a vegetarian or vegan joke isn't completely out of the question from time to time 😊.
You can find general information about the Alpe-Adria-Trail here
The Bavarian native combines as an Environmental Systems Scientist and state-certified Mountain and Ski Guide in an ideal way competence and passion for his great love, the mountains. A renowned mountaineering book author and first ascender of daring routes in rock and ice.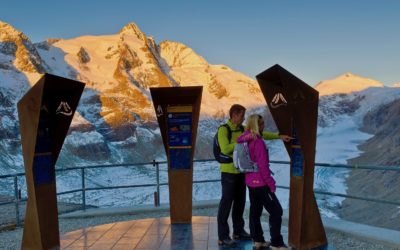 © Franz Gerdl/Kärnten WerbungThe Trail Angels team has accompanied the successful Alpe-Adria-Trail project since its inception and has also been responsible for the operation of the Official Alpe-Adria-Trail Info and Booking Center in Carinthia since 2016. The...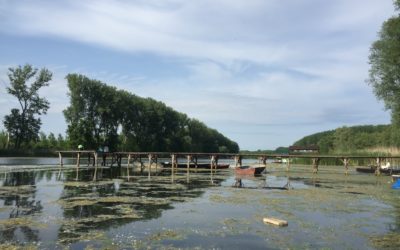 A side arm of the Danube, perfect for a dip into the water © Trail Angels12 days, 5 countries, 3 rivers, 22 amazing moments and endless warmth and hospitality. After such an intense and impressive time, back at the homebase of the Trail Angels, it is time to reflect...
Every great journey begins with the first click.
If we could inspire you for responsible tourism, just get in touch with us. Who knows, maybe something big will come out of this first click!