Gesäuse Hüttenrunde: the Alpine Club Package
Long distance hiking - meaning hiking for several days with constant change of place - has its origins in pilgrimages. Besides going on pilgrimage, moving from place to place has had a great tradition among craftsmen for many centuries.
Nomen est omen: The Gesäuse Hüttenrunde connects pretty much all the spectacularly located refuges in the Gesäuse. The missing wellness area is replaced by a twinkling starry tent ©TVB Gesäuse/Stefan Leitner
The tourist aspect, that is long-distance hiking for recreation, as an opportunity for sporting activity and for aesthetic reasons, was only discovered a few decades ago.
In the Alps, long-distance hiking has initially established itself primarily as hiking from one hut to the next. Classics such as the Karnische Höhenweg, the Tour du Mont Blanc, the Berliner Höhenweg in the Zillertal Alps or the Wiener Höhenweg through the Hohe Tauern mountains have been around for several decades. However, the terms "long-distance hiking" and "Höhenweg" are not to be misunderstood in connection with these trails: they lead through high alpine terrain partly with sections secured by ropes and are only recommendable for high alpine experienced mountain hikers.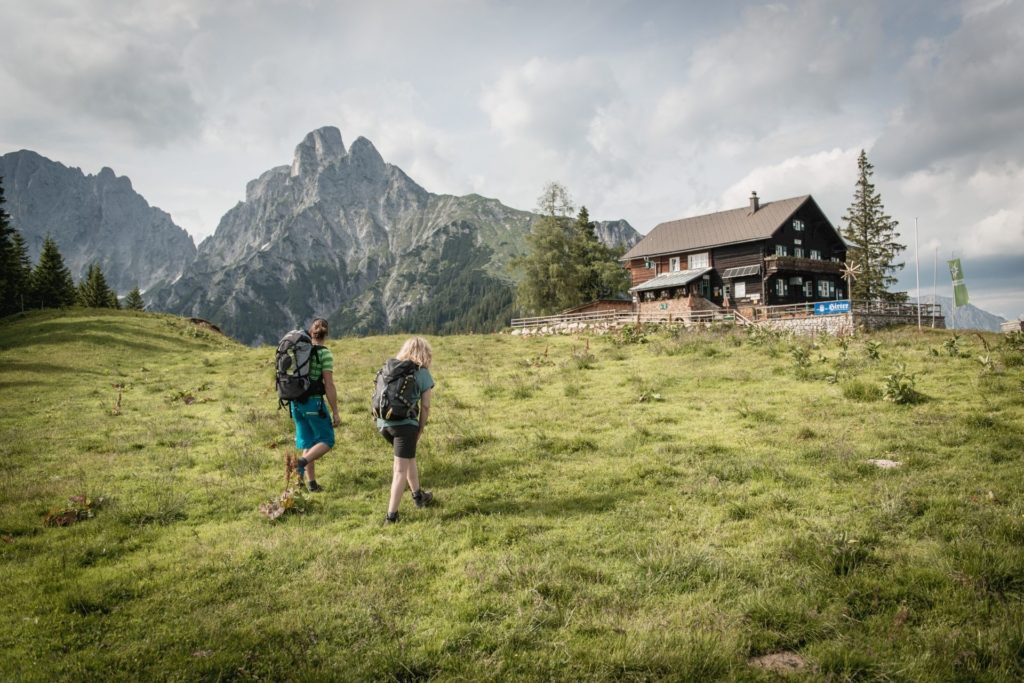 The goal of the first stage is almost reached: the last meters to the Mödlinger Hütte below the Admonter Reichenstein
©TV Gesäuse, Fotograf Stefan Leitner
In my childhood and youth such trails were very popular and I loved to walk with my parents from hut to hut and enjoy the beauty and freedom of the simple life. The only important thing was to have a roof over my head at night and to get something to eat and drink. Far away from civilization one could wonderfully forget all worries. Life was limited to the basic needs – a luxury in our time of overwhelming stimuli. On these hut hikes my love for the mountains awakened; it is because of them that I am a mountain guide today and am writing this blog.
One of the advantages of staying in alpine huts is that you can enjoy the evening atmosphere high in the mountains in peace and quiet ©TV Gesäuse, Fotograf Stefan Leitner
You don't have to be a little Reinhold Messner for this hike…
On the Gesäuse Hüttenrunde you can experience exactly this feeling of hiking and living. However, you don't have to be a Reinhold Messner for a tour: the Gesäuse Hut Circle trail leads on the bookable version at Bookyourtrail.com exclusively on blue or red marked trails (i.e. trails of no more than medium difficulty). There are no rope safety devices or exposed passages with danger of falling. The hut feeling, however, is 100% guaranteed for overnight stays in Alpine Club huts such as the Ennstaler Hütte, the Admonter Haus or the Haindlkarhütte.
That means the magnificent view with hopefully fantastic sunsets and sunrises, the peace and quiet and the life in the middle of nature and the mountains. No television. Instead, fantastic food and a beer that simply tastes better up here than in the valley. Even though all the huts have been lovingly renovated and brought up to date in recent years, the flair of the Alpenverein huts has always been retained.
The Alpine Association and the Naturfreunde are certainly mainly responsible for the development of these hut hiking trails. Without these associations, most huts would not exist and they were the ones who created the paths (often along old hunter and shepherd paths) and maintain them to this day. The Gesäuse Hüttenrunde was created, among other purposes, to promote sustainable hiking tourism on the alpine huts of the Austrian Alpine Club in the Gesäuse. For me it has always been a matter of course that I am a member of one of these clubs. On the one hand, to support them in their work with my membership fee. And on the other hand, because the goodies in a membership such as insurance cover and discounts on overnight stays in a hut are simply too tempting.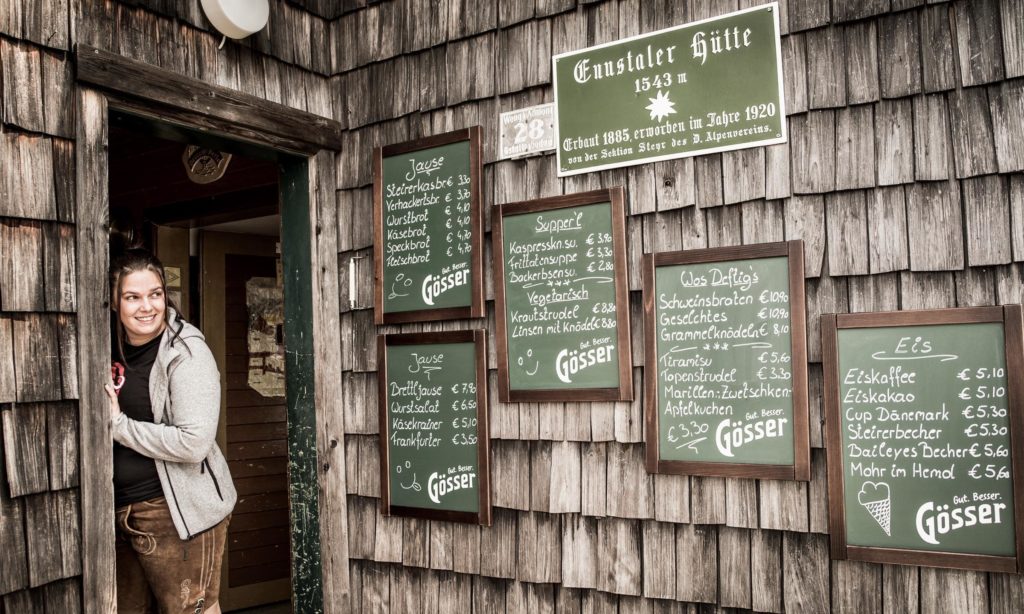 Charming welcome at the Ennstaler Hütte: The Gesäuse Hüttenrunde is known for the hospitality at its shelters ©TV Gesäuse, Fotograf Stefan Leitner
Maybe you are also a member of the Alpine Club or the Naturfreunde? We have therefore created a "Alpenverein Package" for the Gesäuse Hüttenrunde as an offer – it goes without saying for us to pass on the discounts for members. Simply state your Alpenverein or Naturfreunde membership number when requesting this offer and you can book this special Alpenverein package!
You can find all important information about the Gesäuse Hüttenrunde here.
The Bavarian native combines as an Environmental Systems Scientist and state-certified Mountain and Ski Guide in an ideal way competence and passion for his great love, the mountains. A renowned mountaineering book author and first ascender of daring routes in rock and ice.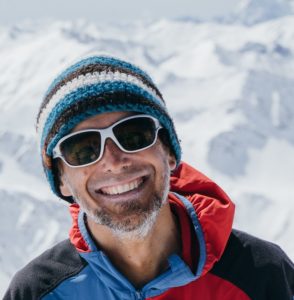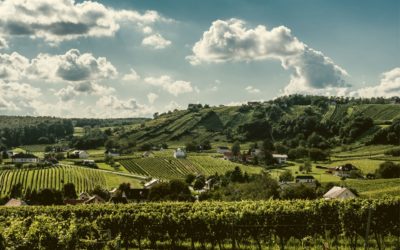 The new Bernstein Trail combines pleasure and active recreation like hardly any other trail and is intended to position Burgenland as a new hiking destination ©Burgenland TourismusWhen thinking of wine landscapes, the pleasure hiker always thinks of sunny and very...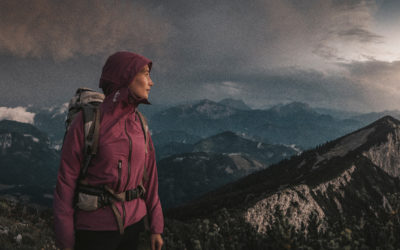 Hiking is necessarily an outdoor activity. And during outdoor activities, bad weather cannot be avoided. Now one could think that there is no bad weather, only bad equipment. But in a thunderstorm a good raincoat is not enough for hiking. Therefore, we want to give...
Every great journey begins with the first click.
If we could inspire you for responsible tourism, just get in touch with us. Who knows, maybe something big will come out of this first click!