Nockberge-Trail Tips for ski touring in case of bad weather
Everyone who plans his or her ski tour thinks of cloudless skies and crystal-clear views to the horizon full of anticipation during the planning phase. That's the way it should be, because anticipation is an essential part of the tour, at least for me!
Now you have to keep a clear view! And if you want to be on the safe side, it's best to go with a ski guide. ©Trail Angels
That the reality is always different and you often do not have 4 days cloudless and windless – and best of all with powder snow or butter-soft firn – knows everyone who has been in the mountains more often. And it doesn't matter. Without bad weather there is no snow and therefore no ski tours. Besides, rough weather conditions often create very unique and intense moods – some of my bad weather tours are among the most beautiful tours I've ever done. Even in today's outdoor photography, the best pictures are often not taken in good weather – ever noticed that?
BUT: In bad weather, of course, completely different demands are placed on you as a ski tourer. An actually easy ski tour can suddenly become very difficult or even impossible. This is even more true for the Nockberge Trail, because – as is usual for a traverse – you never descend along your ascent track. In the worst case you have the famous "white out" in front of your eyes: simply white on white with no trail and no contrast. Sometimes I had to reach into the snow in such conditions to know if I was standing or skiing. Conditions that make orientation extremely difficult. Conditions that complicate a rescue in case of an accident. We don't want to pass the buck here, but in bad weather you simply have to know what you're doing.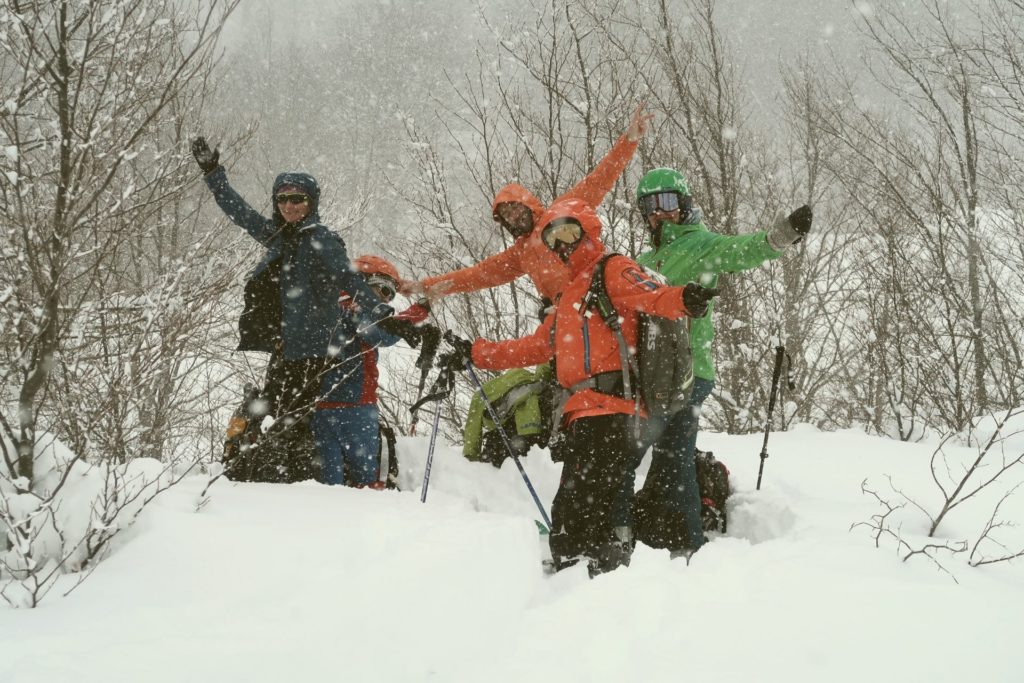 Bad weather = bad mood? No way! © Bookyourtrail.com
With this blog, it falls to me to give you a few tips for the Nockberge Trail or generally for ski touring in bad weather. A serious blog, but definitely not unimportant. Let's start:
1. take a GPS device with you and download the GPS tracks of the stages on it. Or download an app with topographic maps and GPX upload option to your phone and save the GPS tracks there. In the Outdooractive app, the stages and thus also the GPS tracks of the Nockberge Trail are easily accessible. How far can you rely on a GPS device? In small areas, e.g. a wind scour or a blown rock, a GPS track is of no help. Besides, a GPS device is only as good as the quality of the track. And if your device fails you have a real problem (best your partner has a device too). Just think of a GPS device as a very useful tool to help you out in case of sudden bad weather. But if you can only find a route with the help of a GPS track, you are traveling in the wrong conditions. I do it consistently in my work as a mountain and ski guide.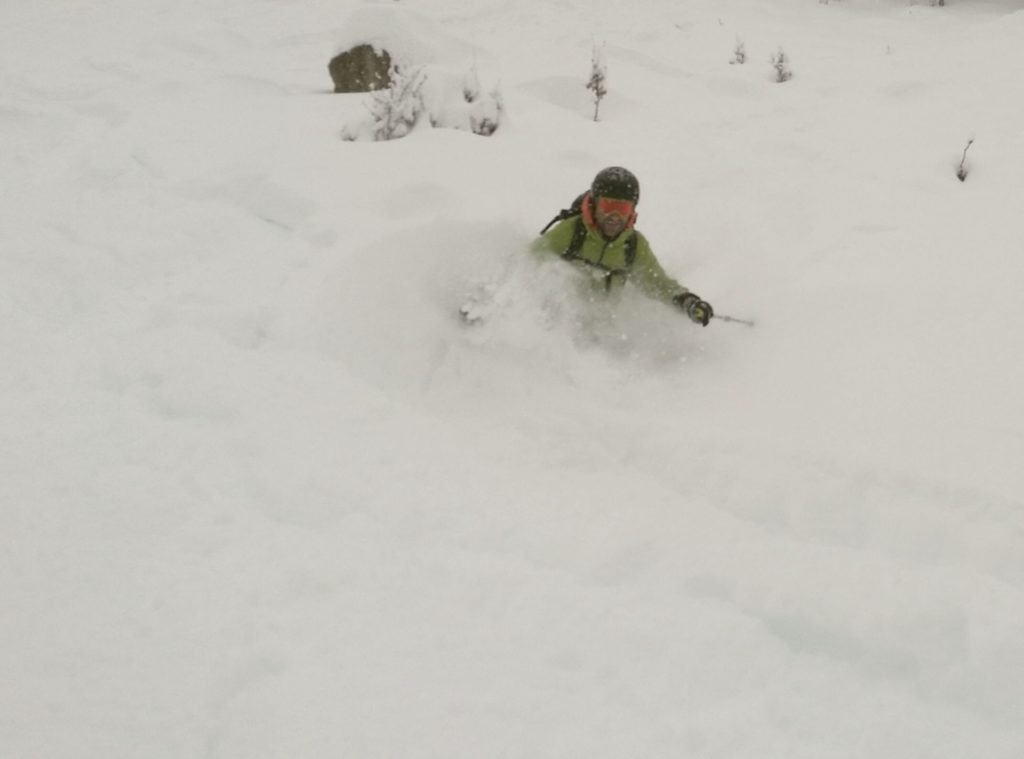 Snowfall often enough also has a decisive advantage: namely super powder snow for fantastic descents! © Bookyourtrail.com, Fotograf: Stefan Lieb-Lind
2. look at you the evening before when planning the next stage equal to the abort possibilities with and determine "points of return", at which you decide whether you go on or turn back (to the nearest abort possibility). These points mark logically places, from which a return (to the next break-off possibility) becomes clearly more difficult. On the Nockberge Trail, useful break-off options are described in the stage description.
.
3. Each stage of the Nockberge Trail runs for long stretches along mostly round and mildly pronounced summit ridges. However, some passages – such as in the summit area of the Königstuhl – break off very steeply to one side, even if the other side has no technical difficulty at all. What is not a problem in good visibility – in good weather these ridges offer extremely enjoyable skiing with great views – can be dangerous in poor visibility: without clear landmarks you can easily be 5 m too far to the left or right. Therefore: walk the summit ridges of the Nockberge Trail only in sufficient visibility and do not feel your way to the next stage location with a GPS device when white out. Contrary to some opinion, the Nockberge Trail is only marked extra in some places: it is a ski touring traverse and not a hiking trail.
.
4. Which brings us to the next point: What to do if the weather is really once too bad for the Nockberge Trail – you have to go to the next stage? Don't worry, you will get there. If you have booked through Bookyourtrail.com with luggage service, you can usually ride with the luggage transport for free. Depending on when the luggage transport leaves, you can go skiing on the slopes before or after, or go on a smaller day ski tour, where you can easily turn around at any time and find your way back along your ascent trail: an alternative program that can also be very satisfying and, on certain days, much more enjoyable. After all, doing without something does not necessarily mean a loss, but often a gain.
5. In general, you should be much more defensive about avalanche danger when visibility is poor – whether on a day ski tour or a stage of the Nockberge Trail. It is possible that you will not be able to identify areas that have been snowed in and are therefore at risk of avalanches due to poor visibility. Also, in poor visibility you will very quickly find yourself on a slope that is steeper than you think. So: critical avalanche situation and poor visibility don't go together at all.
6. save emergency numbers in case of emergency as well as recharge batteries of cell phone and GPS device is now not bad weather specific. But in bad weather, of course, this takes on a special relevance. The batteries of IPhones, for example, had problems again and again in cold weather, so that they have not held a whole ski tour – fatal if you are dependent on GPS.
.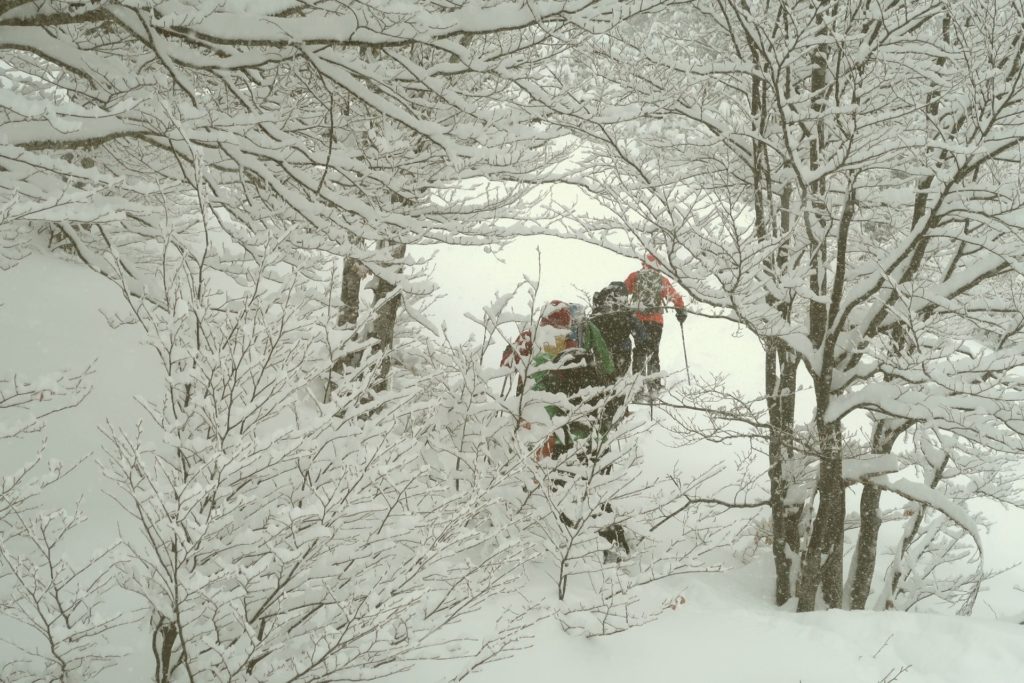 In really bad weather, alternative day ski tours to just above the timberline often offer fabulous atmospheres, good snow and much better orientation than on the higher peaks. © Bookyourtrail.com
The independent and experienced ski tourers, for whom the Nockberge Trail was also designed, I can certainly not scare off with this rather serious blog – he and she knows exactly what I mean. However, if you have become a little unsure whether you are experienced enough, you can always book a state-certified ski guide at Bookyourtrail.com. Alternatively, you will find an offer for a fixed date "Nockberge Trail with state-certified ski guide" below.
In principle, however, we look forward with you to cloudless days with wonderful powder snow or buttery firn on the Nockberge Trail – just as the wonderful ski traverse deserves. To days like today is – and like tomorrow will be, when I'm on the Nockberge-Trail next time. Because the anticipation is a wonderful joy!
All the important info on the Nockberge Trail
.
The native Bavarian combines as an environmental systems scientist and state-certified mountain and ski guide in an ideal way competence and passion for his great love, the mountains. Recognized mountain book author and first climber of bold routes in rock and ice.
.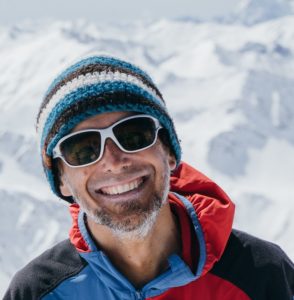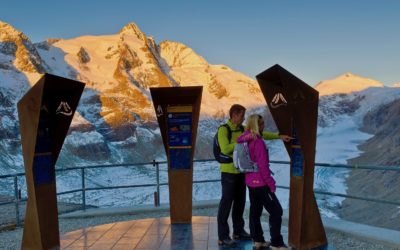 © Franz Gerdl/Kärnten WerbungThe Trail Angels team has accompanied the successful Alpe-Adria-Trail project since its inception and has also been responsible for the operation of the Official Alpe-Adria-Trail Info and Booking Center in Carinthia since 2016. The...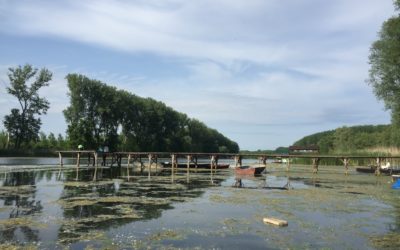 A side arm of the Danube, perfect for a dip into the water © Trail Angels12 days, 5 countries, 3 rivers, 22 amazing moments and endless warmth and hospitality. After such an intense and impressive time, back at the homebase of the Trail Angels, it is time to reflect...
Every great journey begins with the first click.
If we could inspire you for responsible tourism, just get in touch with us. Who knows, maybe something big will come out of this first click!