On the way to Mount Everest Base Camp
To get into the heart of Nepal and reach the Everest Base Camp, that would be something! 2016 I put my dream into reality. I booked the adventure Everest Base Camp Trail at bookyourtrail.com.
Up to Namche Bazar
Full of anticipation, I flew via Delhi to Kathmandu. After a day full of exciting impressions, the taxi took me to the domestic airport early in the morning. A light blanket of fog lay over the city. Soon after, we departed. The propeller plane lifted off towards Lukla (2,840m). I was in the lead with my sherpa guide Mingma. Here I had the best view. The valley was getting tighter. Imposing mountains now rose on both sides. From afar I saw one of the shortest landing strips in the world. Seconds later, we landed safely. My porter was waiting for me, shouldered my orange bag and set off immediately. Now it really started! Mingma provided me with interesting information and gave me enough time to find my rhythm. From Lukla everything that was needed along the way must be transported by animals or humans.
Carrying has tradition here. A wild, dusty path with steep ascents and descents, often interspersed with stones, leads through a breathtaking landscape. On the second day we went to Namche Bazar (3.440m). After a long suspension bridge, it became steeper, more exhausting, and my break intervals became shorter and shorter. I said to myself in a mantra: "go slow Raimund, and take breaks." I mastered both perfectly. At a rest stop I spied through a narrow opening in the coniferous forest a snowy mountain – the Everest. In Namche Bazar we took the first rest day.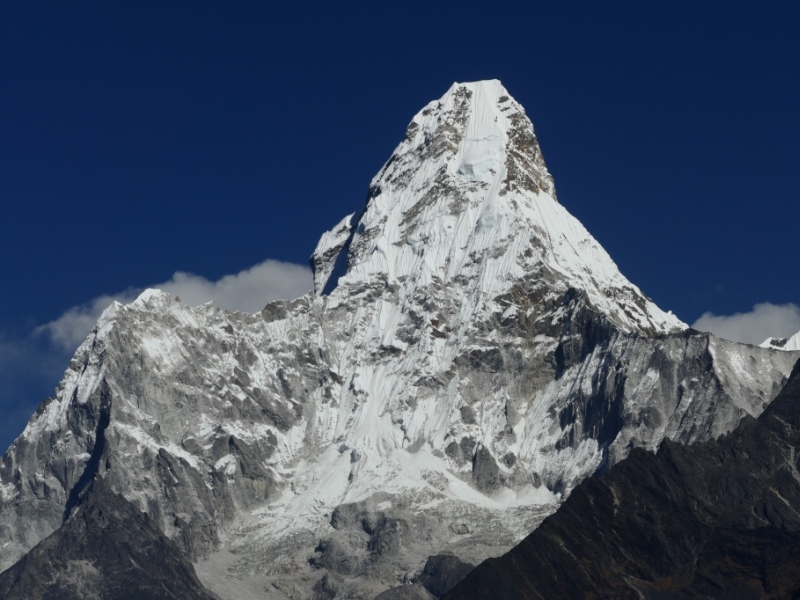 In the spell of Ama Dablam © Trail Angels
In the spell of der Ama Dablam
From there we went to Tengboche (3,860m). In the area of Mount Everest, the infrastructure is well developed, and many lodges line the path. You get bottled water, decent food and even a prepaid Wi-Fi card. The weather was just perfect. A dark blue sky framed mountain peaks of rock, snow and ice.
Today I saw the mountain Ama Dablam (6814m) in its full splendor. Many see him as the most beautiful peak in the world – I could not find a counter-argument. The next village was Dingboche (4.410m). Milk tea with dry cake was served in Mama's restaurant for a feast. After a good meal – mostly rice, vegetables and eggs – we went to a simple bedroom. My down sleeping bag prepared a pleasantly warm night for me. After another rest day we ascended to Lobuche (4910m).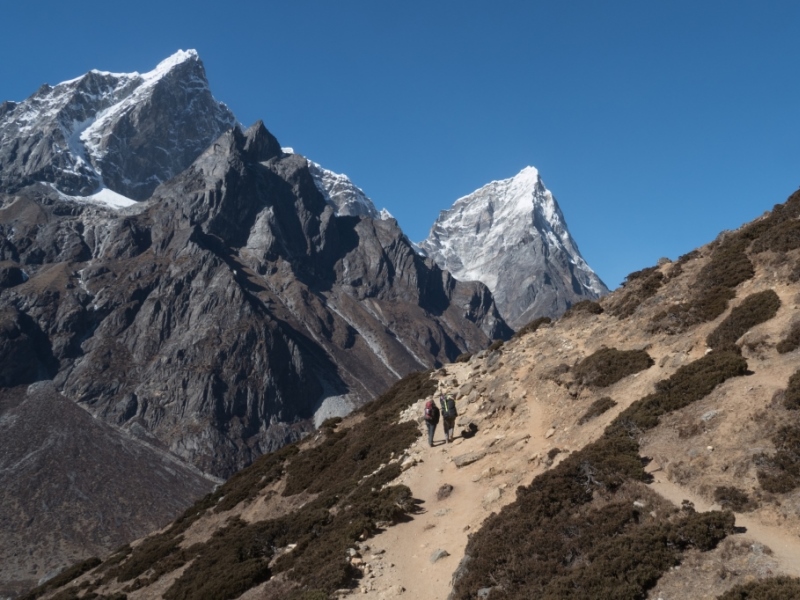 Let's continue the adventure © Trail Angels
The ascent of the Kala Patthar
Here I felt the height for the first time. A painkiller for the headache brought me a few hours sleep. The next day it was finally time. A few meters in altitude – and only a few kilometers of distance separated me from my goal. At 10.00 clock it started. The altitude slowed down my thinking. Again and again I had the feeling, to get too little oxygen, but breaks and a motivating look from my guide helped me to move on. After about 250 meters we reached Gorak Shep (5140m). Here a path leads to the Everest base camp and another to the scenic Kala Patthar (5,550m), which I had chosen as my destination.
The motto was clear: Just go, take a break, and keep repeating this rhythm. From afar I saw the summit with its prayer flags. It was now a little tougher with each altitude – pure mental training. After about 2.5 hours I reached my mountain. The lungs burned, and a slight dizziness briefly stopped me. I turned around and was amazed – in my life I had never seen anything so breathtaking.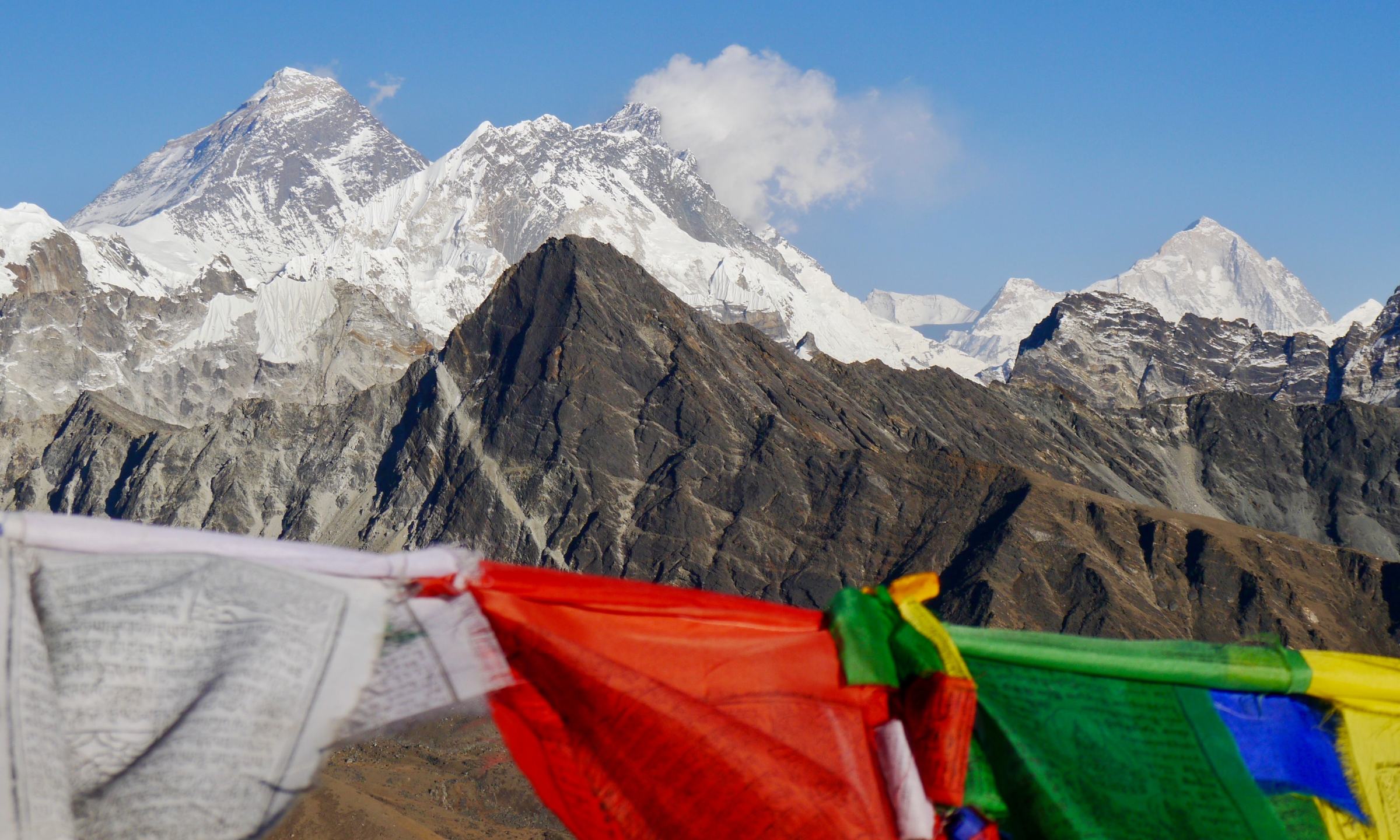 And there HE is, in close distance, the highest peak in the world © Trail Angels
People, if you want to be individually and well looked after for trekking in Nepal, then I cannot hesitate to recommend Bookyourtrail.com! You can now choose between four trails in the Everest area and plan and design your own tour online. And expert guides like Mingma Sherpa are also the guarantee for a relaxed, safe adventure.
More you can find here.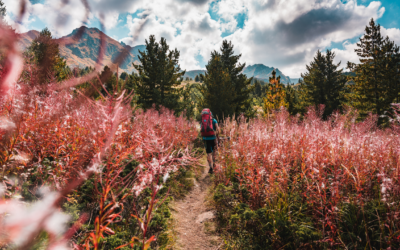 Der High Scardus Trail - Soul of the Balkan Mountains: breathtakingly beautiful long distance hiking in the Western Balkans © Matthew NelsonI was thrilled when I received word that I would be joining Trail Angel Stefan Lieb-Lind as the photographer on a ten-day...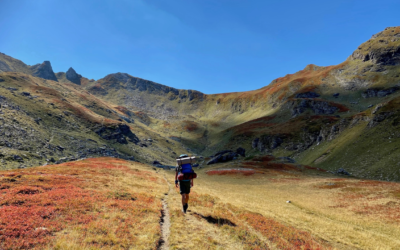 The High Scardus Trail - Soul of the Balkan Mountains: breathtakingly beautiful long-distance hiking in the Western Balkans. Here in the impressive Korab Mountains ©Trail AngelsAn inspiring travelogue by Taulant B. Hoxha about the ascent of the southern section of the...
Every great journey begins with the first click.
If we could inspire you for responsible tourism, just get in touch with us. Who knows, maybe something big will come out of this first click!